2006 May 21 22:54
In Kentucky at the moment. Undergoing internet withdrawl. Three days with no access, nadn now, after switching hotels, a trickle. I just discovered that sitting nearer the door makes the connection much snappier; I guess the signal just doesn't quite make good contact on the other end of the room. The analog world rears its ugly head again.
In spare time, I've been reading Grailquest 7: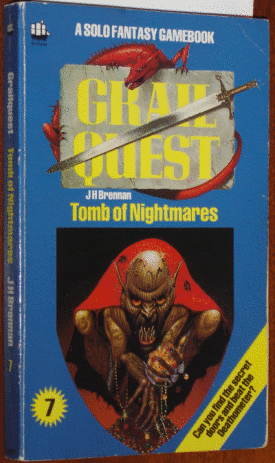 This sort of series was very popular in the 1980's. It's a solo role-playing adventure. The Grail-quest series takes place in the time and realm of King Arthur. One of the better written and certainly the funniest series of that genre I've ever read. The first six books were published in the US and fairly easy to find. Books 7 and 8 were never released in the States, and they can fetch up to $50 each on ebay. I have the run of the British versions of books 1 through 8, given to me by my lovely wife for Christmas 2004.
One of the really fun things about reading (or playing) through this sort of adventure is that you don't know what's coming, which limits the replay value. You can play something through a few times, and after that it's only for nostagia value. Having GQ7 has allowed me to play through a new adventure that I've never seen before, which is something I haven't been able to do in 15 years. If you're into this sort of book, I recommend the Grailquest series and book number 7 in particular.
This adventure is complicated enough that it requires mapping out the book in detail so that you can go back and revisit sections of the book, and search for secret doors and the like. I have a notebook which is filled with pages of section numbers joined by arrows: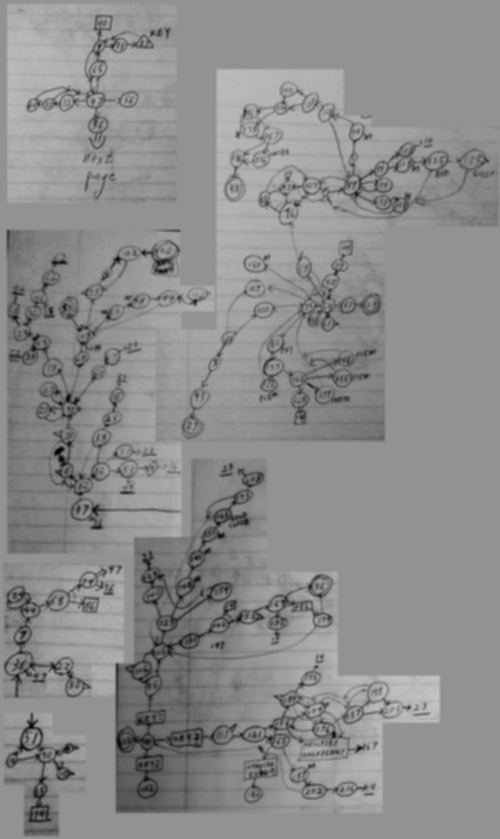 All for now. Hopefull soon we'll know which one the new house will be. 'To the Undiscovered Country!'
---
2006 May 17 08:15
Using open source software is both a blessing and curse. If I want a software package that does a certain job, I can almost certainly find something to do that job. What I may end up with is several packages that do almost what I'm looking for, but not quite how I want it. That is, of course, how so many of this packages were created, because someone had a job to do and didn't have the tool, so they made it themselves.
I'm happy to report that there is a really slick command-line tool for image processing that does a remarkable job of doing what you want in a sensible way. The package is called imagemagick, and it's available as a Debian package. It contains a bunch of command line tools that manipulate images in sensible ways according to your command line arguments.
The tool in the package that I've used so far is convert. This converts one type of image to another, in a batch fashion. It seems to be smart enough to figure out what you likely want to do. For instance, if I invoked it thus:
convert image1.jpg image2.jpg image3.jpg output.pdf
it would create a new pdf file containing 3 pages, the first one being a pdf translation of image1.jpg and so on.

I'm currently using this tool to take a bunch of photos of pages of a book and make that into a pdf file that is a virual photocopy of the book.
---
2006 May 11 12:29
The internet is back up at home, but sometimes it's nice to come to a restarant and blog over lunch.
I've updated the front page of my web site to have links to my Oshkosh trips and the Starship page. I'll be interesting over time to see the amount of traffic to those pages. Traffice measurements will be totally skewed this week, of course, because I keep looking at the pages.
The guys from slashdot apparently made a web radio show back in the day when slashdot was small called "Geeks in Space". The episodes are basically talking about topics and stories from recent news. I think they're interesting and occasionally funny. I've been listening through the archive mirror.
---
2006 May 09 12:31
After waiting through 5 minutes or so of elevator music at Insight yesterday, I talked to a nice young man who said they would credit us for not having internet access from Friday through Tuesday. It's good that they're doing that, but it still doesn't excuse scheduling a 5 day outage without letting customers know it was coming.
I just uploaded new versions of a couple of pages on the Oshkosh 2005 page. I got home last night and discovered that the versions of the "at the airshow" pages didn't have any text commentary; that's been fixed.
After I upload this entry, I'm going to make sure that comments are enabled, so that people can use them. I'll probably have to combat blog spam, but for now it will be nice to have comments open.
---
2006 May 08 12:47
I had a productive and relaxing weekend. I finally got file backups and things up to date, and was able to on my web site. I now have almost final drafts of pages about my trips to Oshkosh. They aren't linked from the main page yet, but here they are:
Drop me a line and tell me what you think!
Unfortunately, I'm now having to upload these pages from a lunch spot with internet access; my ISP was down all weekend. So I have to finish this upload and head back to work.
---
2006 May 03 19:34
"It is the calm before the storm..."
We are sort of in a holding pattern. The other members of my household and I are coming up to a period of change. We're just finishing on period of intense activity, and now there's a calm period. In July (or therabounts) we move to another state, another house, another job.
This morning, it's official: our current house sold: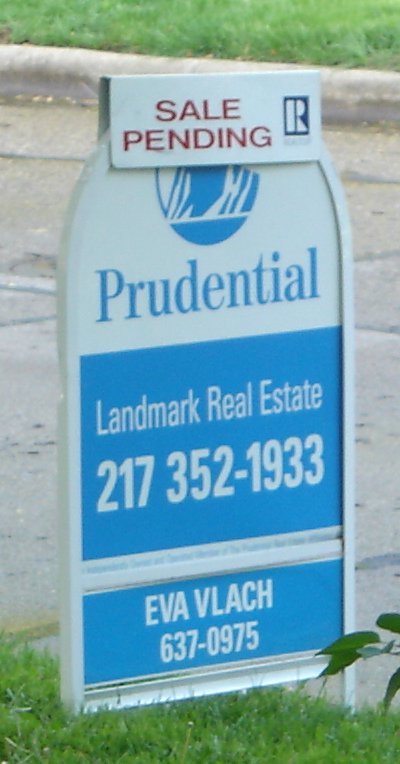 Whoo-hoo! A lot of hard work, and it paid off, about as quickly as we could have hoped.
Now we just need to get ready to move. Urp.
---