2016 March 20 22:26
A schematic map of the brake system in my airplane. Figured out from looking at the hydraulic lines in the airplane.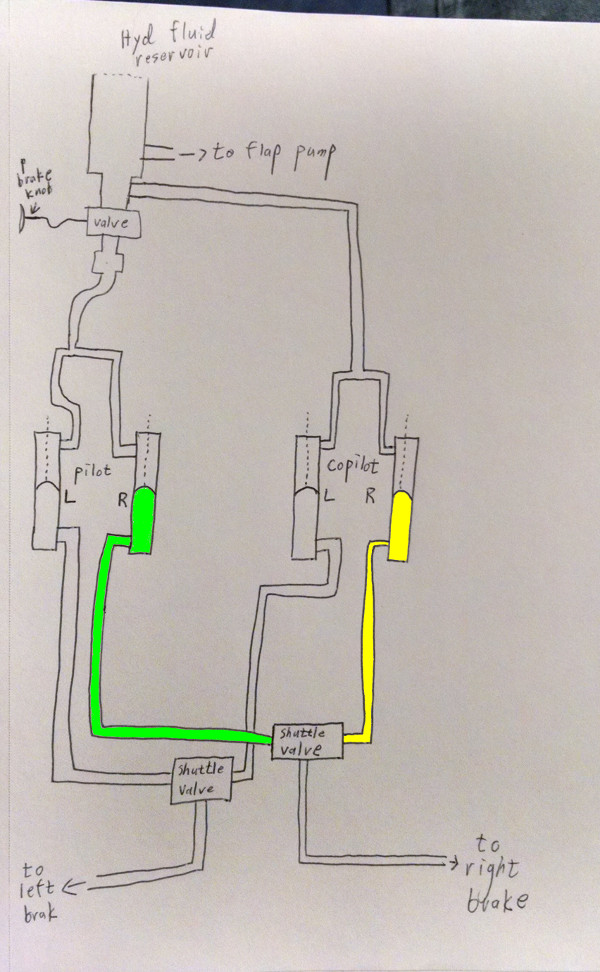 ---
2016 February 20 23:28
Then at the end of March 2015, I flew my wife and I to Texas in our plane. It was pretty awesome. First we had some prep. As part of that, I made a tool to try to not make too much of a mess of the plane when removing the oil filter, which I needed to do to change the oil. (I *really* wanted to have summer oil in the plane before flying it to Texas in April.)
Bandsaw out.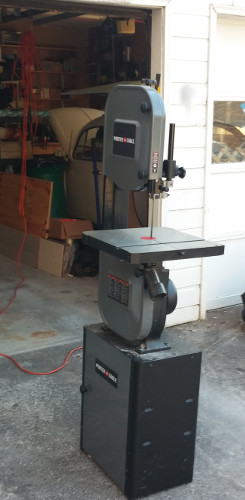 Saw some 4-inch PVC pieces to shape.



Primed, painted, and ready to glue together.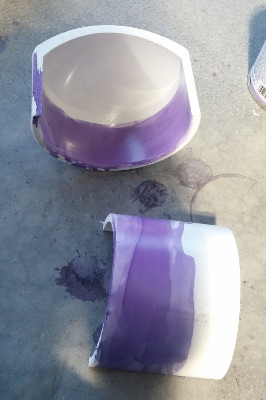 Here's the finished piece, sitting below the oil filter. This is a catch pan to sit under the filter as you unscrew it from the back of the engine that catches most of the oil that drains out of the filter itself as you disconnect it. That keeps that oil from running down the front of the firewall and out on the nose landing gear tire and making a mess. (In the later oil change, I discovered that leaving it to drain for a couple of hours to let the filter mostly drain also helps a lot.)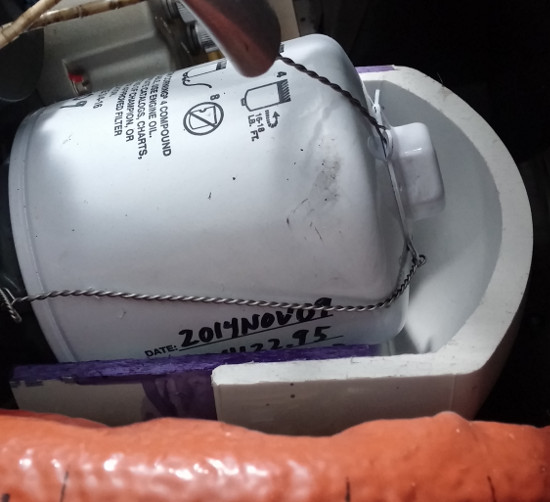 It was supposed to be chilly the morning that we left, so I took advantage of the engine heater we'd recently installed. Here I've plugged the source end of the extension cord into a light timer.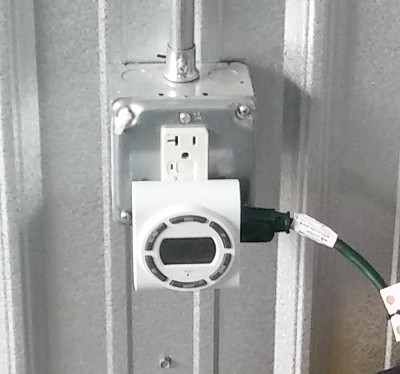 The other end plugs into the heater plug inside the cowl; here you see the end of the extension cord going into the oil door.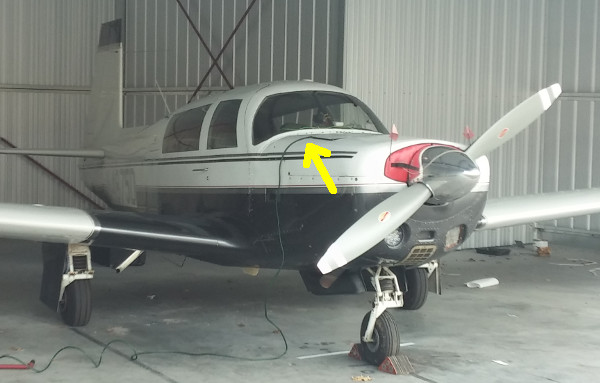 I got the Stratus mounted and power cables run to it, so that I could use it all the way down and back. A nice addition for long-distance flights.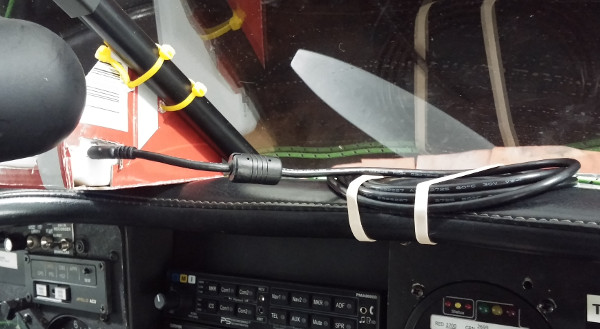 Flying down, I took the Stratus out of its mount on the windshield because it seemed to be overheating. I was very amused to see that it still picked up ADS-B ground stations and GPS signals just fine, sitting here on the throttle and having no view of the ground and almost none of the sky.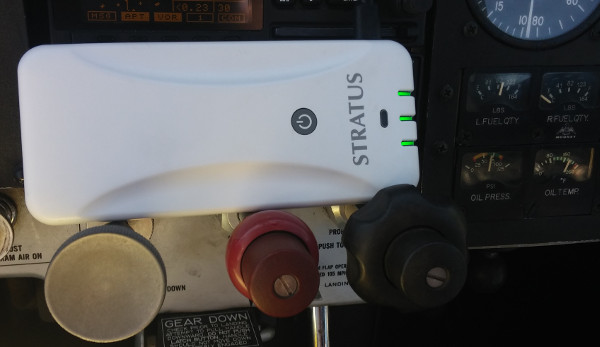 We flew the whole flight down IFR. We took two legs to fly it. Flying into KIAH at the end of this flight was my first time flying into a class B. It was fun and interesting. The controllers were very nice to me. Taxiing was fine, except for my blowing my taxi instructions slightly and getting yelled at by the ground controller.
The FBO was clearly used to bigger planes, but they were very nice and accomodating. They parked our plane along their flight line, with cones to make it more visible.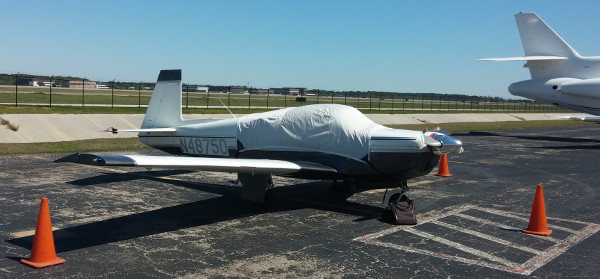 There's a plane taking off (indicated by the arrow) on the runway right behind our plane. Neat!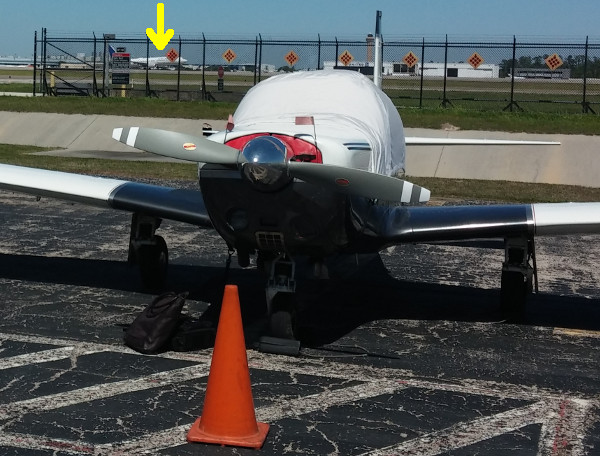 ---
2016 February 20 22:24
After I went to Minneosota, I went on for the real purpose of the trip, to California to the GPU Technology Conference. When I got to my hotel, I opened the hotel directory to look something up, and I swear this was on the page as I opened it: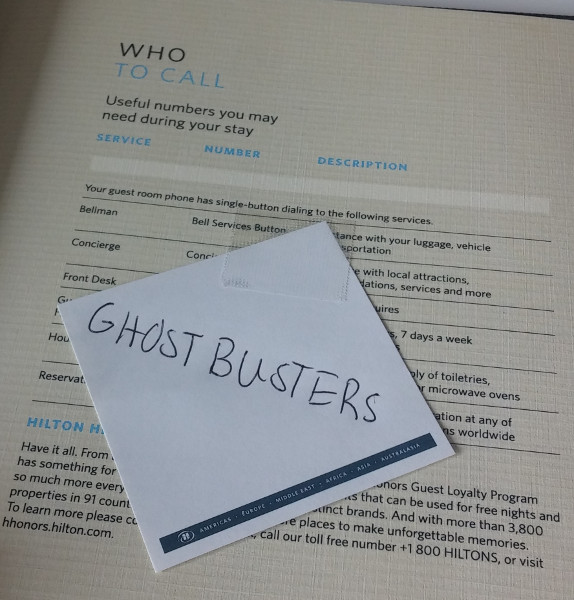 One interesting thing about this (clearly well-funded) conference is there were several neat cars in the conference center hotel: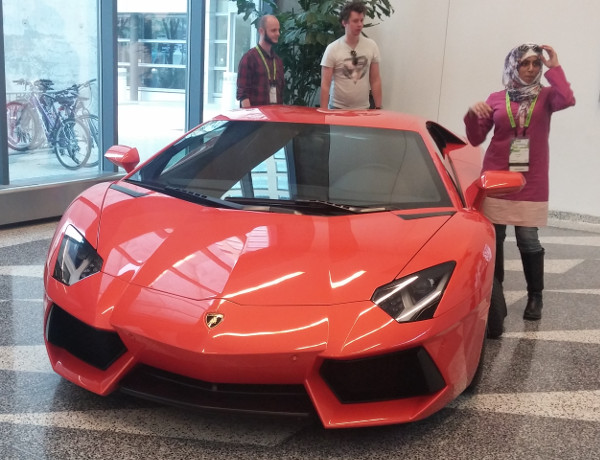 I think that these were there to advertise some outing that the conference was advertising. I looked into it; it took more than half a day, so I decided not to do that.
Interestingly there were a bunch of power pods around the conference, with power cords set up for charging. (NVIDIA was the major sponsor of the conference.)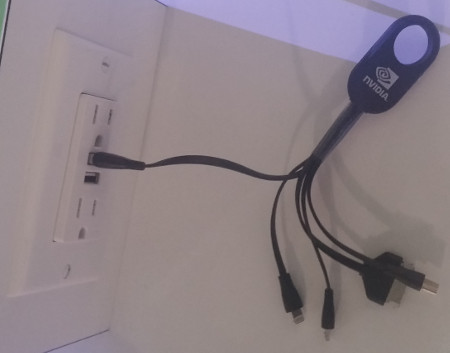 Given all of the security problems with plugging a USB device into an unknown device, I'm slightly surprised that they did this. But people definitely used them. It's definitely not the sort of thing you'd want to do at DEFCON, but that's another story.
I picked up three books at the book store: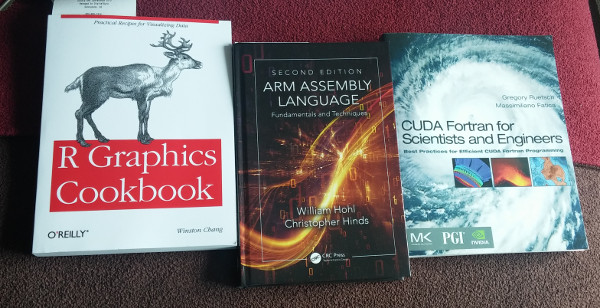 The hotel was really close to the San Jose airport. Most people probably woudln't/don't think that's an asset. But it was great watching airplanes flying over low.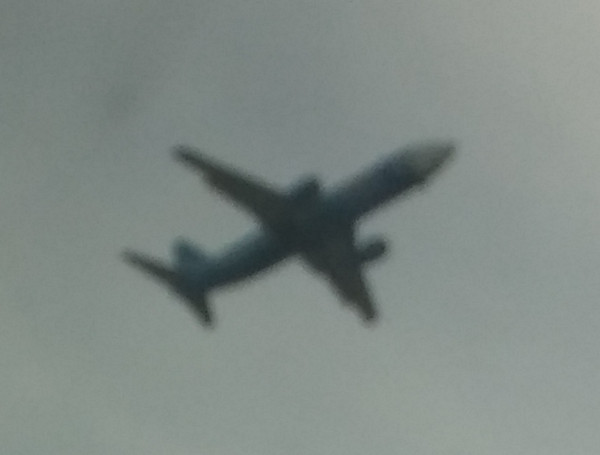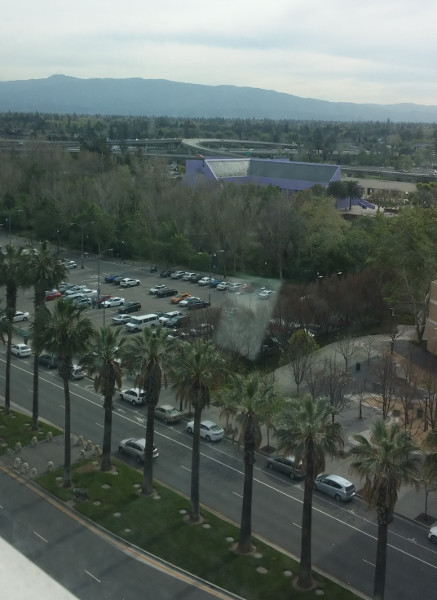 The view out my hotel window. The view did not suck. I grew up and mostly have lived in the midwest, so having palm trees immediately outside of my hotel is terribly amusing to me.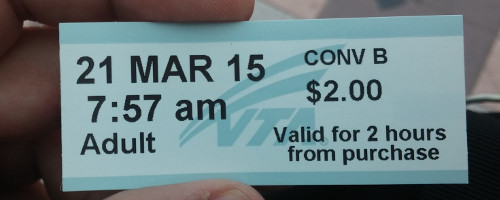 I rode public transit around the bay area while I was there. Not something I do strange cities very often, but I'm really pleased how well I did. I took the train up to Mount View to have lunch with a friend, and came back one evening.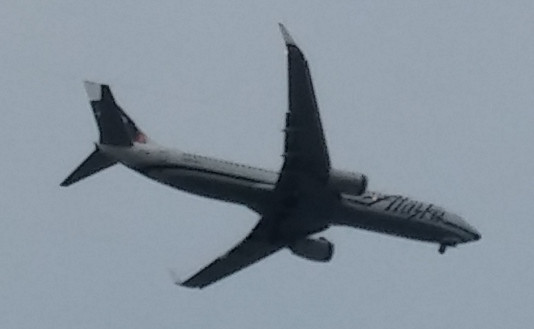 Out waiting for the train, saw another plane flying over.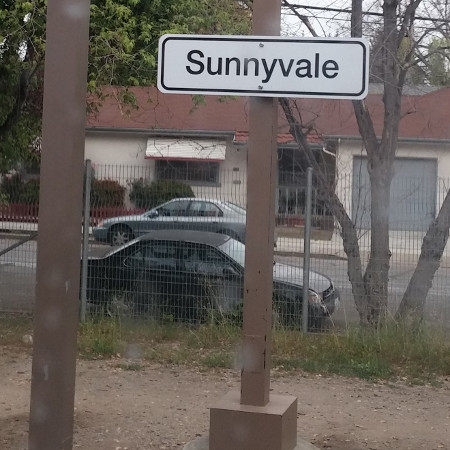 I realize that Buffy the Vampire Slayer was in SunnyDALE California, rather than Sunnyvale, but this station amused me nonetheless.
I stayed in California one extra day at the end, so I went to the Computer History Museum in Moutain view. It's AMAZING. They have tons of fantastic artifacts.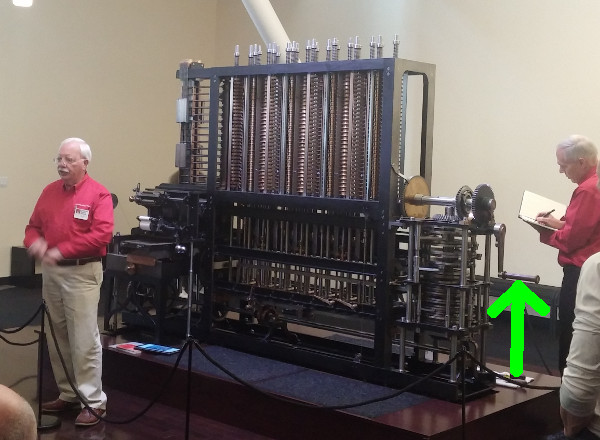 Here is a Babbage Difference Engine that someone built. It's a mechanical that was envisioned (but never actually built) by Charles Babbage. When people talk about "turning the crank" in a calculation, the crank is indicated the green arrow. Apparently turning the crank is an important very skilled job.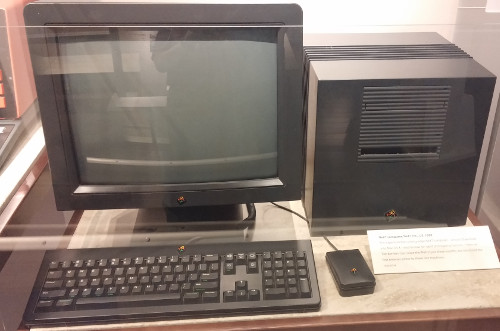 A NeXT Cube. With the original WORM drive, even. I don't know that this is the machine that the World Wide Web was created on, but it was on a machine basically identical to this.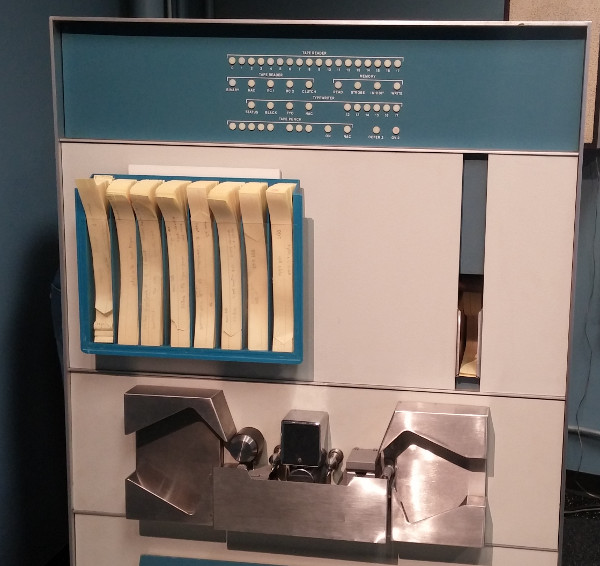 The museum has a PDP-1 computer from DEC. Here's the front, with racks of paper tape for the loader and the paper tape reader. It was pretty cool to see it play Space War.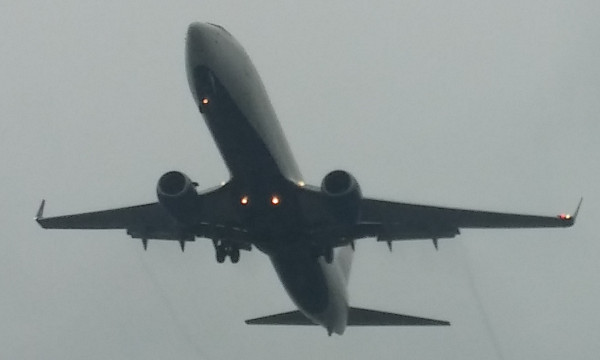 And then I flew home to Atlanta. This was directly above the parking lot where my car was. I would have loved to stay and watch airplanes for an hour, but since I started on the west coast, I lost three hours, so I needed to head out so that I wasn't getting back *too* late.
---
2016 February 04 08:33
One of the things that frequently bogs me down in blog posting is when I have a post to make that has a ton of photos, I end up not doing the post for weeks because I don't have the time to put together to edit, crop, and prep them. So the really good, dense posts end up being the ones that slow things down. So for this post, I'm just going to split up the posts, and do the image editing and writing when I have time to do them separately. So this is part 1 of something, maybe 3 for the whole trip.
In March of 2015, I took a trip to a conference in San Jose, California for work. The conference went the entire week, starting on Monday evening and going through Friday. The airline flights lined up in a wierd way; there basically wasn't any way to construct the trip to fly out of my normal airport (Knoxville, TN)(TYS) without adding several hundred dollars, so the base price ticket would have been flying out of Louisville, which more than I want to normally drive.
So I set the cost of the base ticket by the Lousiville flights. But if I'm driving out of Lousiville, I might as well drive slightly farther and fly out of Atlanta. That gives me MUCH more flexiblity in picking flights. In fact, it gave me enough flexibility to actually add a whole leg to the trip by only kicking in a bit more on the tickets myself. So instead of flying directly to California, I flew out of Atlanta to Minnesota first thing on Saturday, spent the weekend visiting family and friends, and then flew from Minnesota to San Jose on Monday.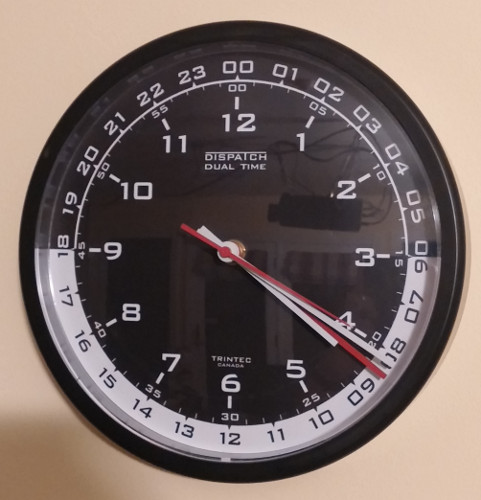 Just about to leave the house at 04:20 in the morning. It amuses me that the clock with four hands (the long red one is the 24-hour hand; it's just after 08:20 GMT) are all pointing in basically the same direction.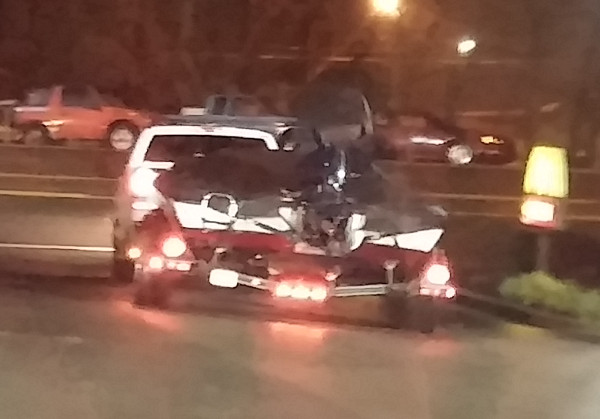 It was first thing on Saturday morning, and it was a relatively warm spring-like day. There were a ton of people out at that time of the morning towing boats; I presume for the first outing of the spring.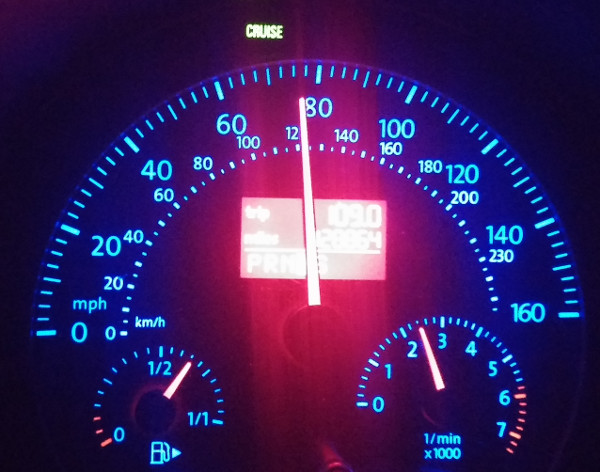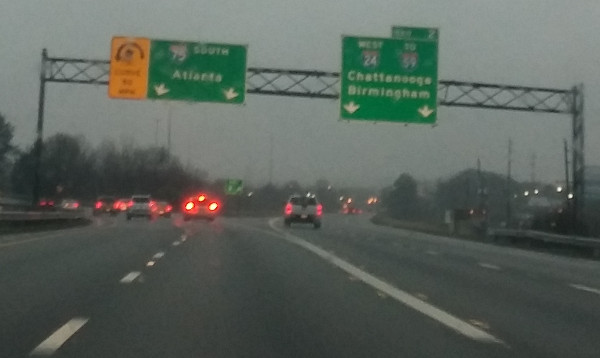 By the time I got to the I-75/I-40 split on the west side of Knoxville, the sun was a bit up.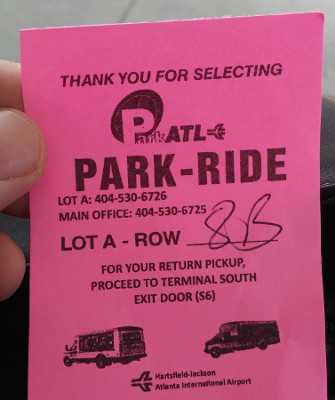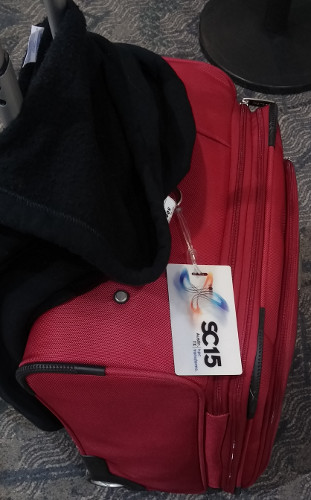 My suitcase, notable because it's bright red (easy to spot if they tell you the wrong carousel by one) and for having a tag for a conference that hadn't happened yet.
And it got interesting when we got to the airport. Enterprise rental at MSP apparently had a surplus of cars, so they were offering to upgrade to anything on the lot for a very small sum. They had an electric blue almost-new Ford Mustang on the lot, so I took it.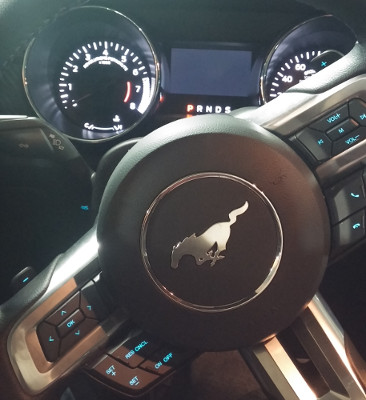 The dash on the Mustang was interesting. The center box can be configured for a number of different things. It can display text gauges: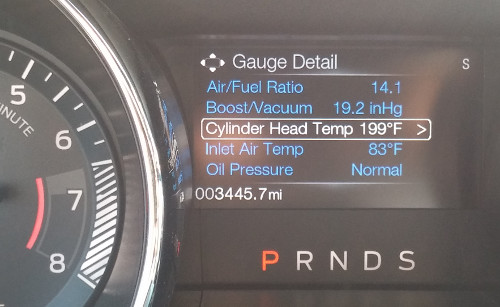 or quasi-analog gauges: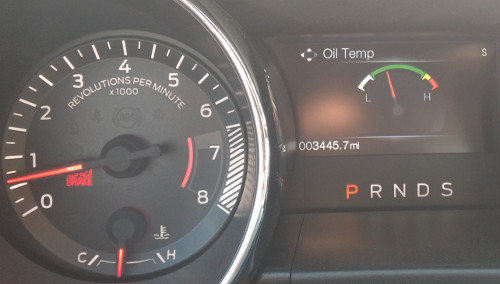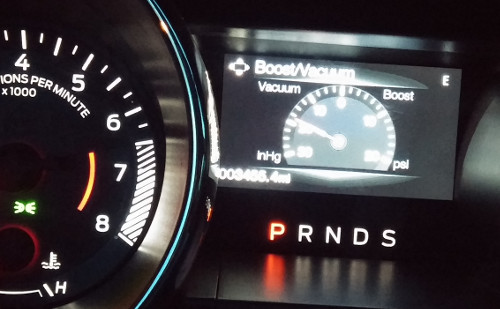 The "vacuum/boost" gauge is amusing. One, because I'm pretty sure that car wasn't turbocharged. Also, I paid attention to that gauge while driving. It probably was connected to some sort of manifold pressure sensor, but it definitely wasn't reading true, or else the zero was (possibly deliberately) way off. To get the gauge to come anywhere close to 0 vacuum, you should have to bury the accelerator, and I could get it to hit "zero" with only moderate acceleration. Ah well, probably for the best.
So I visited family on Saturday. But I decided that with a magnificent car like that, it was a moral imperative to a least do a little road driving with it. It would be a shame to have something like that and just stay around the Twin Cities. So I pinged a college friend, who also lives in the Cites, and proposed that we take a Sunday morning road trip down to our alma mater. She was game, so I headed up to her house first thing Sunday and we did some driving across the state. The photos from the trip itself will be from the next post.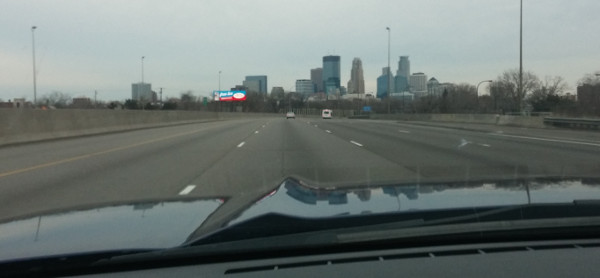 The Minneapolis skyline over the hood of the Mustang.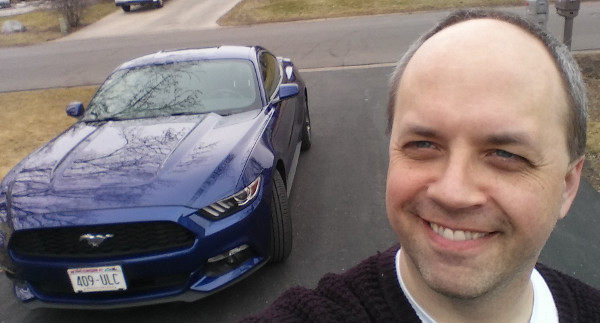 Me, ready to road trip. I kept me in this photo mostly because it amuses my wife.
This trip continued in a future post.
---
2015 December 27 22:35
Photos that amuse me. I was driving somewhere and messing with the Stratus with ForeFlight.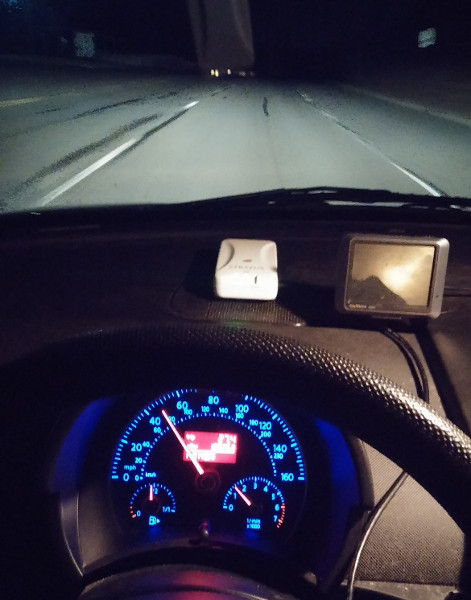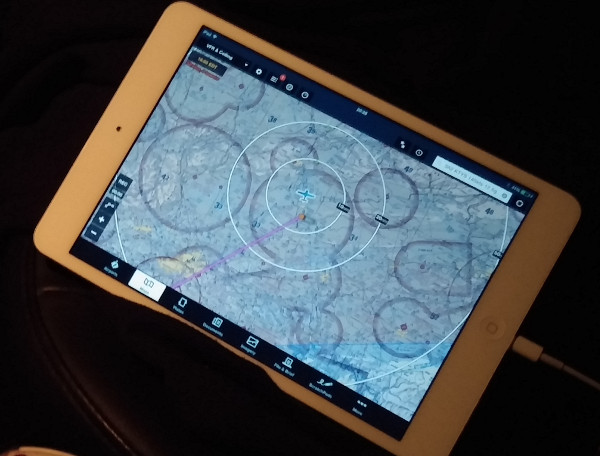 ---
2015 December 27 09:14
The rest of the stuff from early 2015.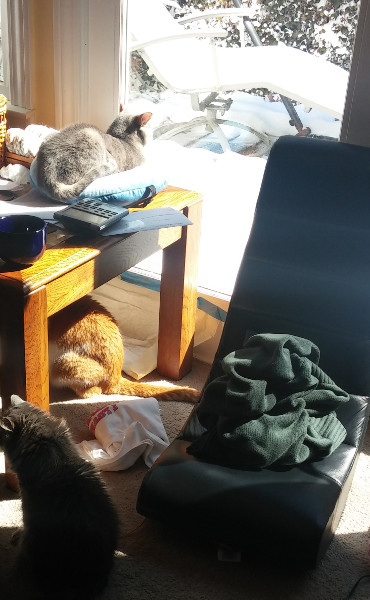 The three cats enjoying the snowy view. It was really really cold in February: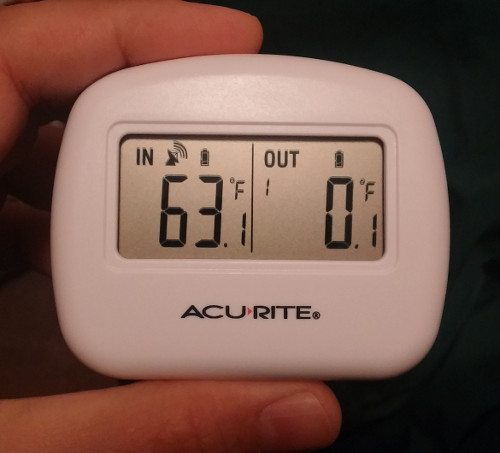 February was the first big round of adoption paperwork. I sent the first application packet with a commemorative inverted-Jenny stamp. I figured we could use all the luck we could get (so far it's paid off; things are going well).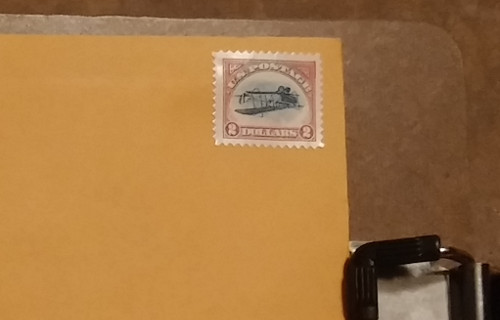 Again, cold while driving.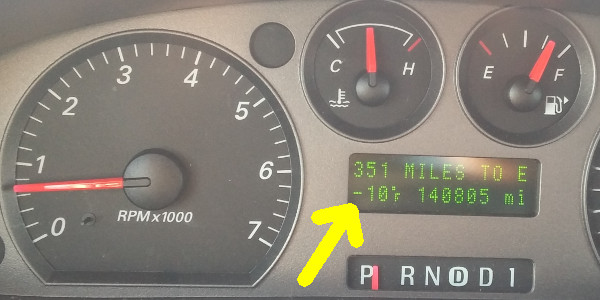 And snow coming down. I highlighted a couple of big flake clusters with arrows.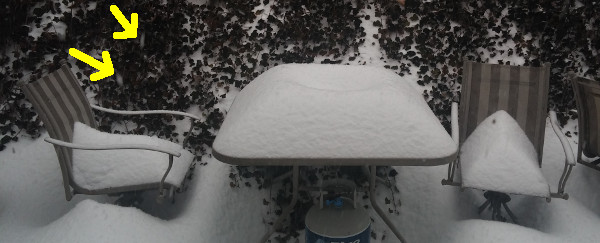 One step back. We managed to leave a hose on the front spigot, and the cold weather froze the tap, and the valve had a crack in it when it was open. Here's before: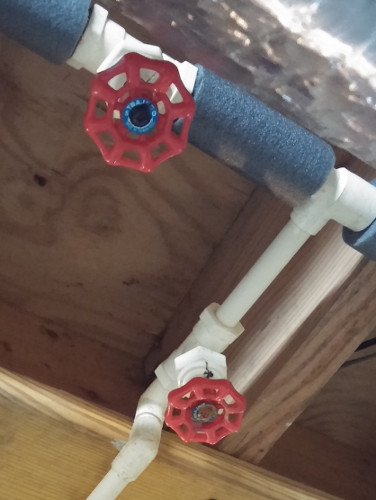 And after: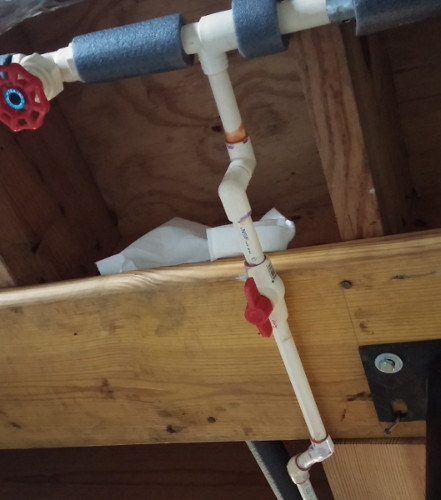 (As of this writing, December 27, the outside tape is still broken. Argh.)
Oooh--another technical success. And this one I did once and is finished! I replaced the plug on the vacuum cleaner: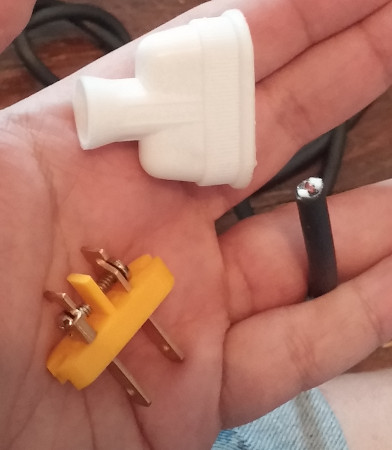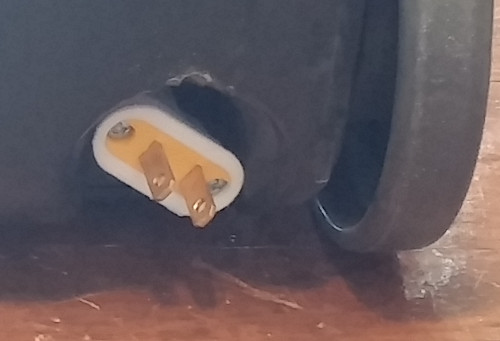 And one final photo of Pangur and Thrice watching the snow.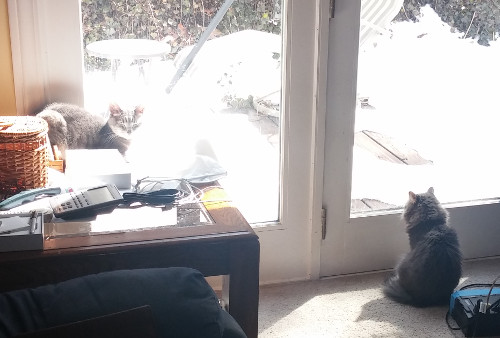 ---
2015 December 27 08:41
Before everything got crazy in March, here are some overall posts that kind of cover January and February. In two separate posts to avoid photo overload.
I am ever-so-slowly collecting parts and tools to put my 1972 VW engine back together. I'm going to tap the case to plumb in an oil filter. To do this, I got the proper drill bit, tapered ream, and 3/8 NPT tap: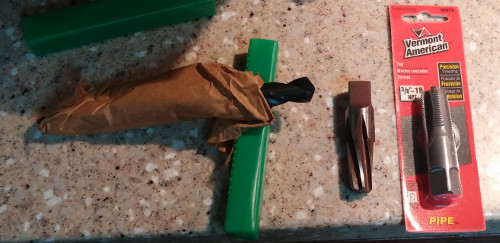 And, in a fit of organization, I put them in a box and labelled them! Amazing!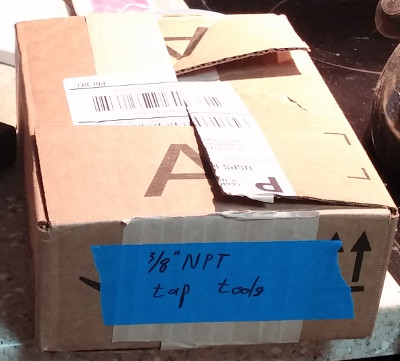 Rare picture of all three cats: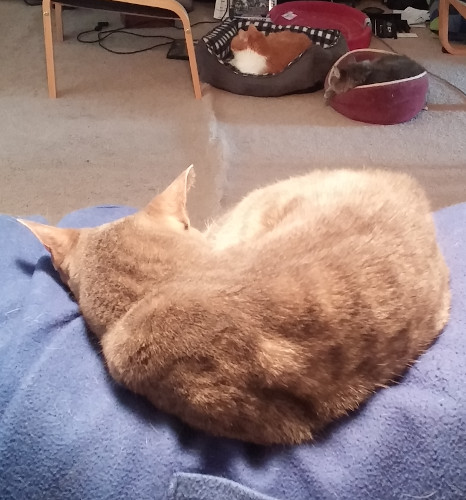 A minor home improvement. This is in the "library" on our ground floor. I put a rack for coats on the left wall here, so that when we have coats to hang up, we can do it somewhere other than the official coat closet in the center of the house which is far away from the doors and also where the cat food lives.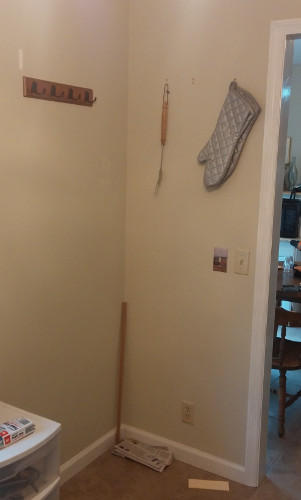 Pangur disapproving of whatever I'm saying on the phone.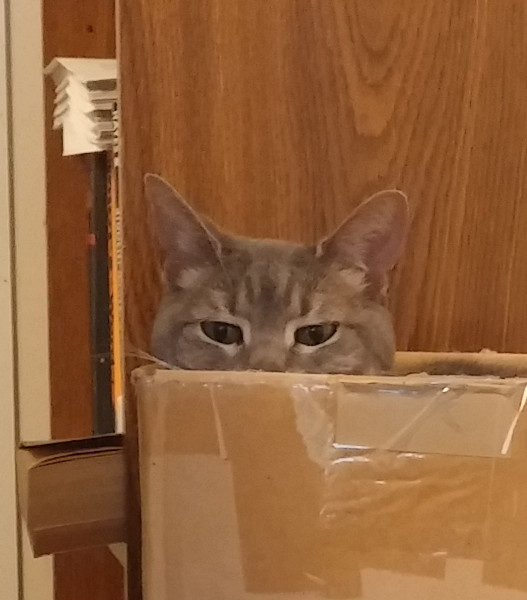 I made some moderate effort earlier in the year to organize my stuff on the main floor (culminating in the drawer that serves as a desk from the last post). Here's my half of the library table desk organized (which I'm sure was short-lived, but an important step nonetheless).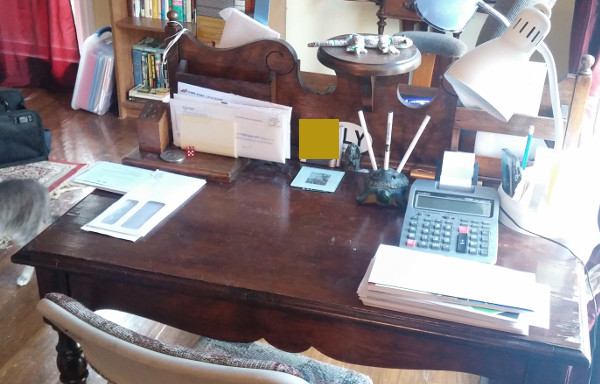 Also in the organizational front, I got some nice storage trays from Harbor Freight and made organization out of the chaos of the socket trays in the tool box.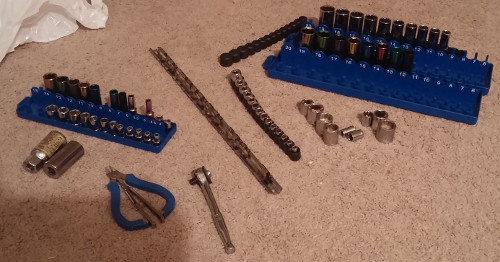 And finally Thrice doing her Meerkat impression.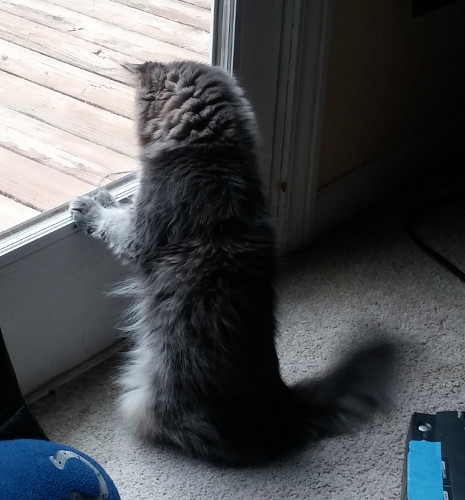 ---
2015 December 26 19:12
At the Cabin over Christmas. Burning paper trash here. I just liked the shot of the burn barrel and the creek.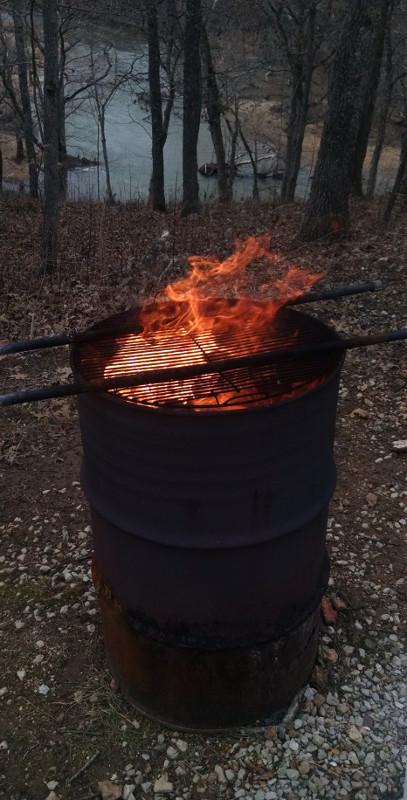 It's been a hell of a year. As of October, all of the settings of the Back to the Future movies are now in the past. Our "Log In Date" for our adoption portfolio was mid-November, so that's exciting. We're taking Mandarin Chineese (mostly spoken, some written).
Aaaaaaand my father-in-law died a couple of weeks ago. :-( Thus we ended up here longer than expected, and we had (and still have) lots to do. Oy. An ugly transition. Very sad. We're still getting used to it.
So I'm going to try to get posts up that summarize the interesting bits of the year. Here's the one for this trip.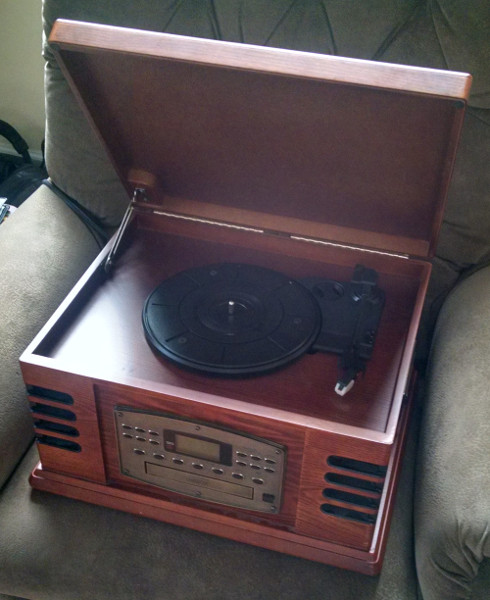 One interesting thing: my wife and I gave this record/CD/tape player/radio to my father-in-law in...it must have been 2002. I tried to play a CD in it, and the drive is jammed. Apparently he used it so much that he wore out the drive mechanism. I'm incredibly gratified.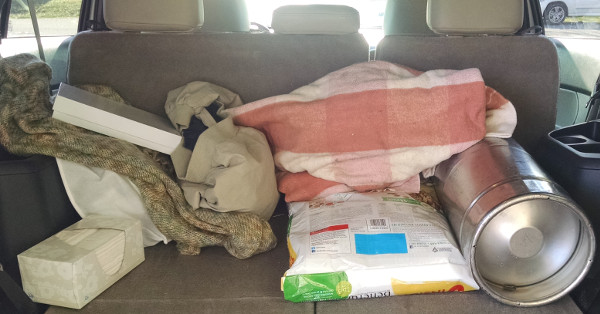 This is the back of the Explorer about to head back from the memorial service. The cylinder on the right is a 1/6th keg of beer, so that we wouldn't run out when all the people came back to the house. We swapped it in before the night was over. People got a kick out of my walking across the road to the liquor store and bringing the keg back with my funeral clothes on.
And I got some Taurus driving in while running errands; some day driving



and some night driving:



And I got to drive the Explorer a bit. It's fairly new one, so it has the fancy digital dash.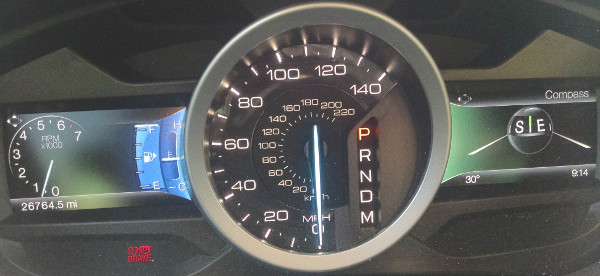 And the climate controls are complicated enough to launch a space ship.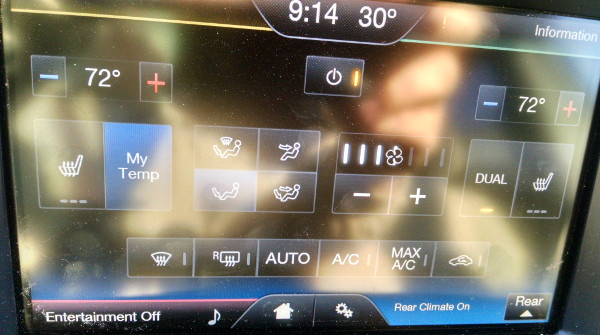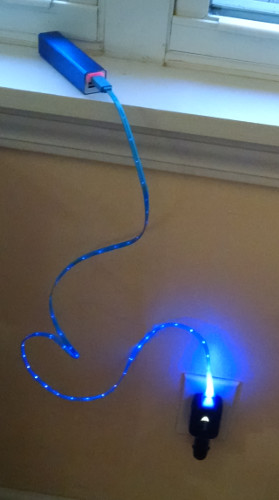 Charging back-up cell phone batteries. The cable is obviously better because it has glowy lights in it. :-D The charger is one of the a great set of Sprint chargers that are both car chargers and wall chargers, and they have lights on them.


My Christmas present to my self is this comically large tap handle. I got this because I'm going to tap the engine block of my VW for an oil filter, and the tap is large enough that it doesn't fit in a normal tap handle. The beer can is for scale.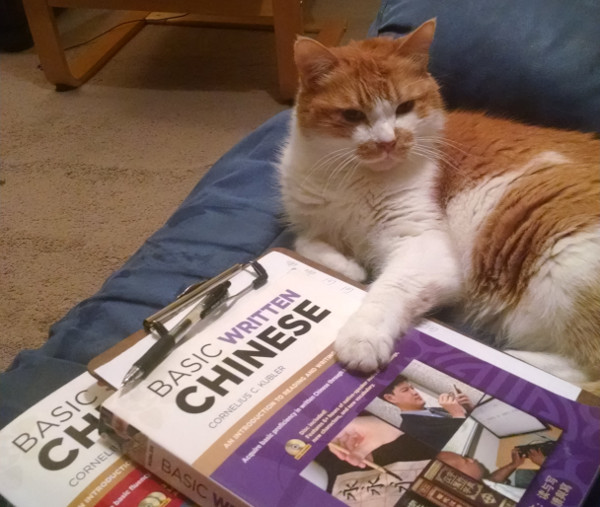 I was sitting on the couch studying for my Chinese language final. This photo is absolutely not posed; Jasper came, sat down with me, and put the royal paw on my books. I think it's a hilarious pose; it's great that he looks so stern.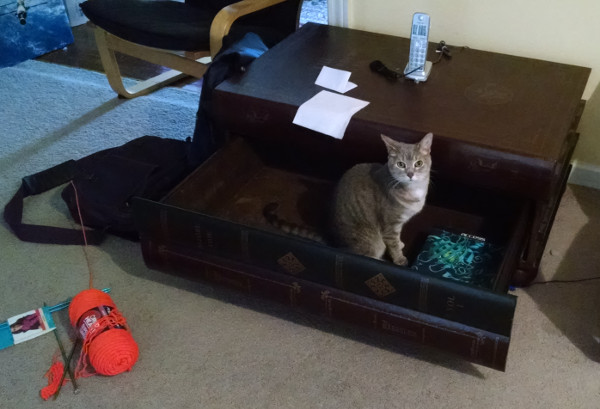 I've had a long-term project around the main floor of the house to kind of get my stuff organized in a longer-term way. I like having a working desk that I pile stuff on to work on or sort, but of course that gets piled up. So I cleared out this drawer, so it can be the "to be sorted" or "to be gone through" piles, so it's out of the way. Of course, as is no surprise, Pangur is helping.
All for now. More entries on the year as I get photos edited.
---
2015 October 03 23:49
Wow. What a year I've had since February. February was vey snowy, and March wasn't any different. (All the things I mention in passing here I will hopefully write a whole blog post about with photos. I just want to get the sequence down here while I'm thinking about it.)
At the beginning of March, I worked with my wife on her professional organization's conference, which almost got snowed out. So the planning and the aftermath of that took more time an concentration than we expected (we drove there and back; much snow). In the middle of March I took a conference trip to San Jose California (flew commercial). On the way, due to airline weirdness, I spent a couple of days driving around Minnesota. Then the conference in California, and then I spent a day at the Computer History Museum in Montain View, and then flew back home. Then, with less than a week at home, I flew wife and I to Houston to visit her brother there. Much touristing was done, then we flew home.
April: Got a front mini-porch put on the house. Got a new phone. April 6, my maternal Grandmother died, so my wife and I made plans to fly up to be at the funeral. We flew up on April 10 and back on April 12. Then the rest of the month was getting my airplane annualed. This was the most normal annual I've had, but still, it ended up being extended for a week because we had to get a part of adjust the front landing gear.
Plane annualed and flown home at the beginning of May. Mid-May, flew my plane to Texas (dodging storms), then flew commercial to Oregon for a several day work thing, then commercial back to Texas. Then a Mooney event in Texas, and then attempted to fly home. Got to Mississippi; the electric pump on the plane failed when I went to fly home. So that was a week and change of wrangling to get that back.
Sometime early in the spring, we decided that we were going to start actively pursuing an international adoption from China. We decided to target bringing the kid home in summer of 2016. We spent a lot of time in May, for instance, sending out from background checks from all the states we've each lived in since turning 18 (turns out I've lived in several.).
The first big component of the paperwork was the home study. This included three visits with a social worker. The first two were in May, the last one was June 10. During that visit, the social worker talked about their upcoming hosting program. We told her that we hadn't been interested, but it turns out, they'd lowered the fees. So we decided to sign on.
So as of June 10, suddenly we were preparing for having a kid in the house. So things suddenly got super-busy. June wasn't bad; I didn't have a lot of trips, but lots of paperwork and working in the room that our guest would be staying in.
At the beginning of July, we went (flew commercial) to Minnesota to Convergence. Then we came back and spent time finishing prep for the kid. He arrived on July 16th, and flew back to China on August 9th. That's a whole story for another time. The conclusion is that we can be parents, we want to be parents, and in face we're going to pursue being parents to that child (which you can do if you're the host family).
So now starting 3rd week of August, my wife and I are both taking spoken Chinese. The 2nd weekend of September, we went to the planning meeting of the conference that organization will be throwing in March. The next weekend we hosted a Chinese Med School instructor (I took him flying). This weekend my wife is at a conference; but I'm writing this blog post because this is the first real chance I've had to catch up in forever.
Yesterday and today I ordered a bunch of parts for my vintage VW. I hope to put it back together in a few weeks.
Phew. Just typing that made me tired.
Final answer: busy summer, and we're super-excited that we'll be adopting a really great and sweet kid this coming year. Not a ton of flying, but some good stuff in March and in May.
Details on a lot of this stuff in the (hopefully near) future. This was just the overview. Photos too.
---
2015 July 11 20:12
I normally get at least a couple of cell phone photos of the rental cars I drive, but this trip, I didn't manage to do it.
R and I flew Delta from TYS to MSP to attend Convergence and see friends. Our original plans had been to go to Oshkosh and GenCon later on in July (this year they're the same week) but there's a Big Exciting Thing happening the last two weeks of July and the first week of August which shifted our schedule (more on this in another post in the near future, I'd imagine).
We flew up on Friday morning on the direct flight, and so we got to the hotel at around 11am. Even though we spent most of the weekend at the hotel, we went ahead and rented a car for the sake of convenience. It also meant that we could go directly to the hotel as fast as possible to get our badges (which turned out not to be a problem).
We rented a car from Enterprise. They didn't have any compacts, but has it turned out, they had a Toyota Prius available. I wouldn't have reserved it; my understanding is they're typically a premium-cost vehicle, but they had it available and it was only a slight upcharge from the reservation we'd made. So we rented it and drove it around the city from Friday morning when we got in through Tuesday late afternoon when we left.
It was interesting to drive, not too different than other cars with a couple of exceptions. Steering as normal. I had to really push down a lot on the gas pedal to accelerate well; I later found out that was probably because we were in "eco" mode; it apparently changes the value on the accelerator curve. Acceleration actually wasn't bad, except for the squishy pedal. The one thing that was really strange was when the gas engine would just stop when you were driving slow (like driving around a parking lot). That's eerie the first time it happens.
Proximity key fob for ignition, which is fine, and push-button start. Since it's a Prius, of course, it may or may not actually start the gasoline engine when you start it. THe proximit fob unlocks the door before you touch it, which I HATE; you can't check before you leave the car that the driver's door is locked.
The gearshift is purely electrical, so it has an odd feel. You have four postions that you move the gear shift to from rest; Reverse, Neutral, Drive, and Braking. Park is a separate button next to the gear shift.
One huge thing that this car fell down on was that it didn't have a "your lights are on" warning buzzer.
So all in all, a perfectly fine car to drive. I'm glad I drove one, but I wouldn't go out of my way to do it again. The gas milage frankly isn't enough better than conventional cars that I'd want to have one for that reason, and putting up with its quirks makes that easier.
---
2015 April 28 23:00
I meant to come and have the annual of the plane take 3 or perhaps 4 days. *sigh* It's not super-bad, I get to stay and play with the parents-in-law who are awesome, but it's been two weeks as of tomorrow and I miss my wife and cats.
This post is about what I've been doing. Early on we cleaned and check spark plugs; everything looking healthy there.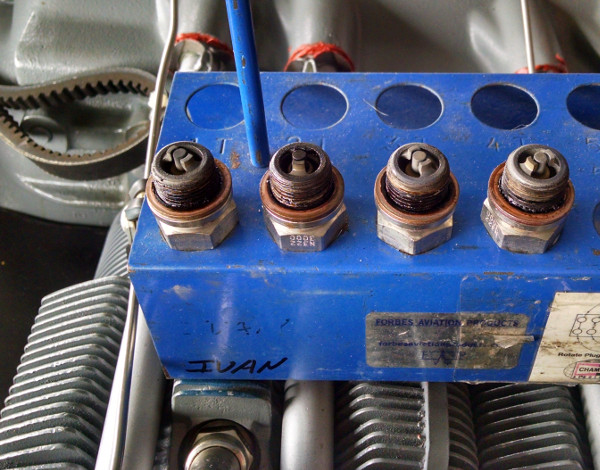 One of the big things I've done this trip is take all the belly panels off my plane for the first time. Here they are laid out with piles of screws.



I forgot to put something in the picture to scale; the panels are about 2 feed wide, top to bottom in the image. There's about a few hundred screws holding them to the airplane.
Getting the screws out wasn't trivial. Three of them had actually completely frozen, so I had to cut a slot in their heads with a dremel tool to get them out.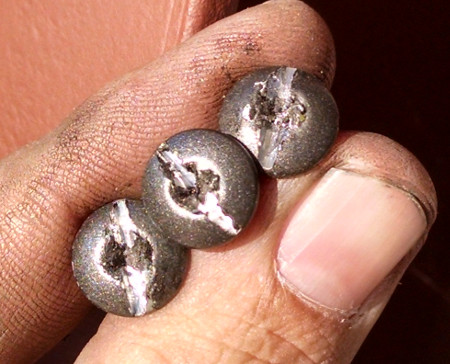 Another thing I got to mess with was taking off and putting on the spinner.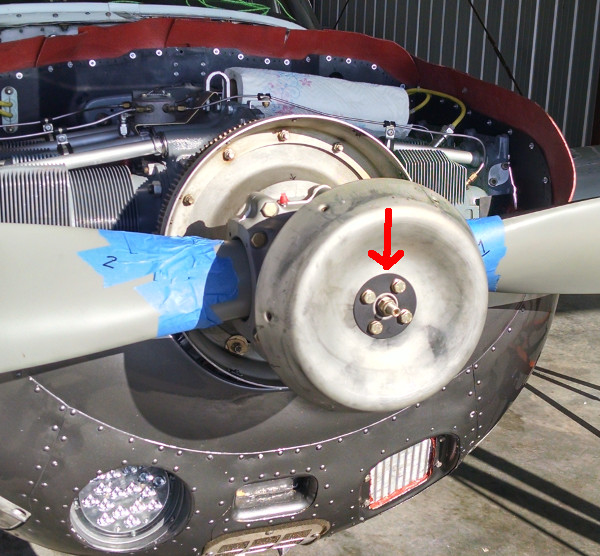 I painted the pressure plate (highlighted by the red arrow), and then installed the forward bulkhead with new screws. Just waiting for the mechanic's approval to put that part back together.
So what's the fuss about? Why did I stay longer? Well, I needed to have a spacing collar installed in the nose gear for better handling. THe collar is the silver ring; the white plate is the pressure plate at the top of the gear doughnuts.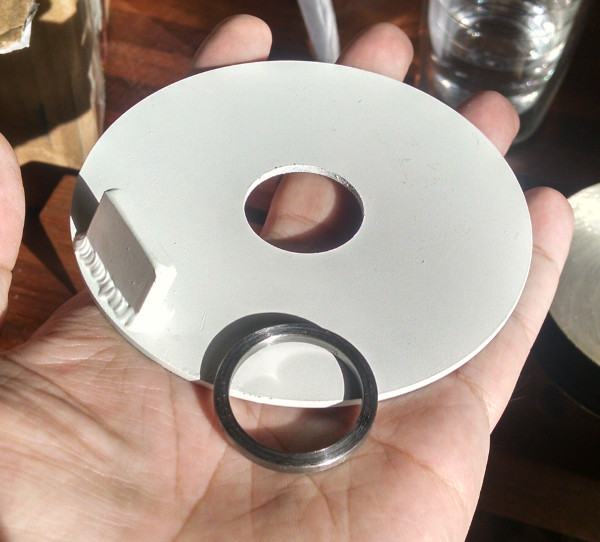 And as long as we're taking the nose disk shock tower apart, I decided to have the shock disks in the nose gear replaced.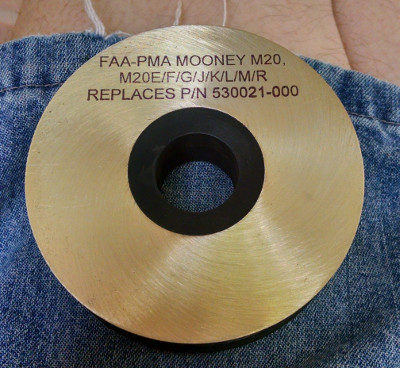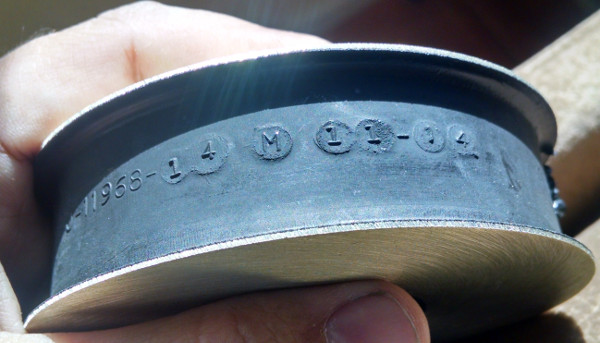 Also, while I've been driving back and forth to the hangar (1 h 20 min each way) I've been testing chargers to see which one worked best charging my iPad mini.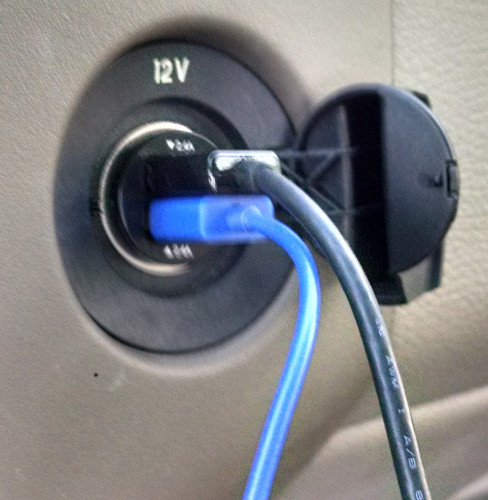 So tomorrow, hopefully by mid-day the nose gear will be back together and I can start planning for the trip home.
---
2015 April 07 10:04
Here's what I've been doing with the Stratus. Here's my working cardboard template that I'm getting into shape.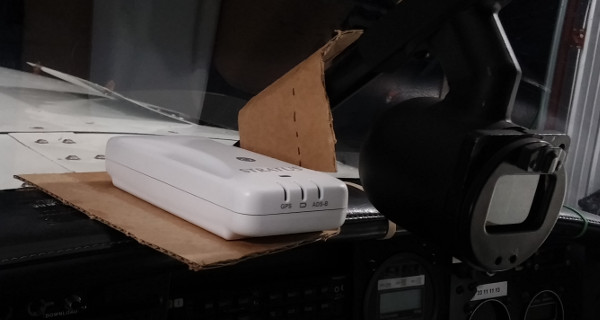 I'm basically making a basket or tray that holds the stratus along the axis of the airplane, so that I can see the status lights, and so that it doesn't slide off into my lap from the glare shield. I did this very early in the year.
A few weeks later, I put together a more precise version of the tray. Here I've put it together.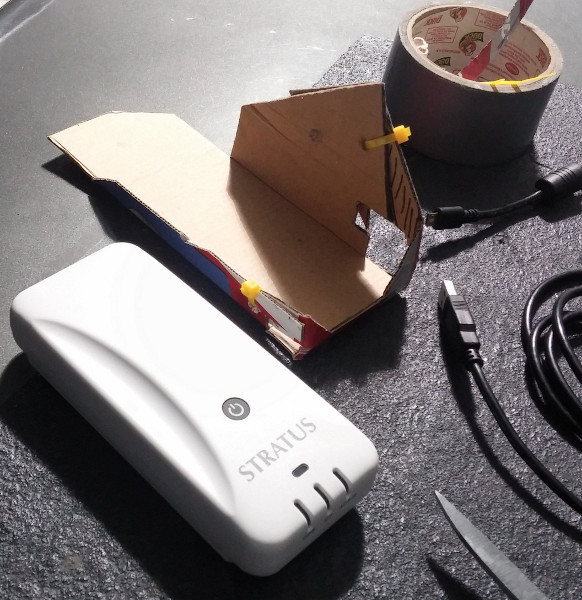 Eventually the thought is to make the tray out of Aluminum so it's stiffer, but the cardboard will do for a short-lived version.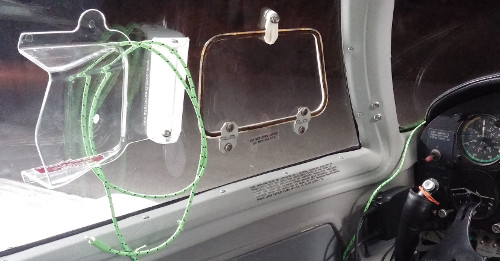 The green cord is a USB power cord that runs along the top of the glare shield and then comes over by the pilot to power the iPad.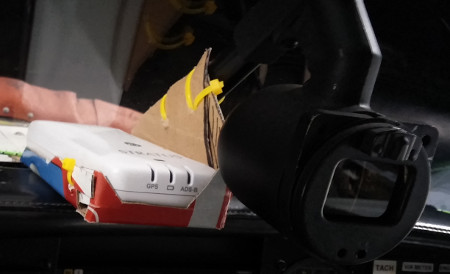 The cardboard tray, cable tied into place on the compass mounting tube, with the Stratus sitting in/on it. And the power cable to the Stratus: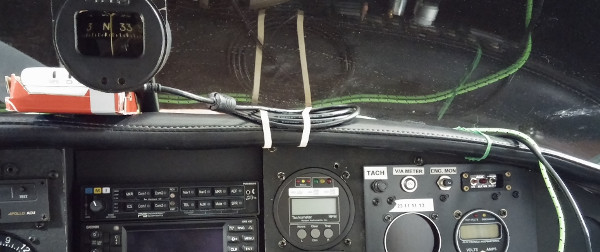 Here's what the setup looks like from outside the windshield: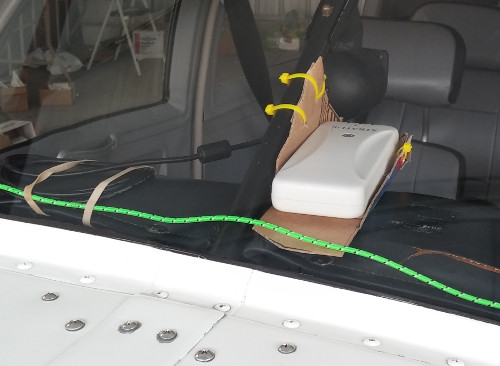 If I park the airplane just right, I can get the car into the hangar with the airplane still in it and shut the door: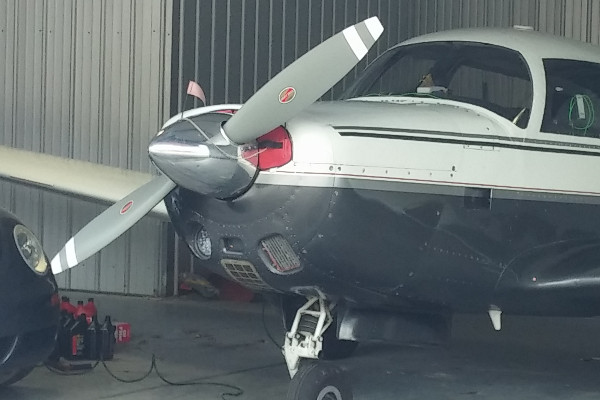 A closer view of the above shot. You can see the oil cooler nicely here in the lower corner of the cowl. You can also see the Stratus in its mount under the windshield.
And after a couple of hours of futzing and prepping, the airplane is ready for its trip to Texas (another post).



The weather was likely to be fairly cold the morning that we left; you can see the extension cord going in the oil door on the cowl; it's attached to the engine heater plug and comes from a timer on the other end. I set it to start warming the oil several hours before we got to the hangar. It worked great.
---