2006 August 20 08:41
Er...I did it. I took the plunge. Before moving to Kentucky from Champaign, Illinois, I decided that being a host for a major institute at work and moving cross country didn't make my life nearly complicated enough, so I bought a vintage car less than a week before we left. I am now the proud owner of a 1972 VolksWagen SuperBeetle. I got it checked out and certified as road worthy for the trip. It was, almost, but that's another story. So far it has carried me to four flying lessons, so that's all good.
Here's a couple of photos of the car the day we first looked at it: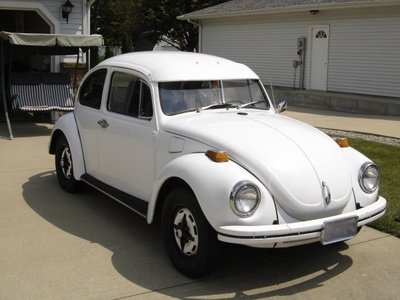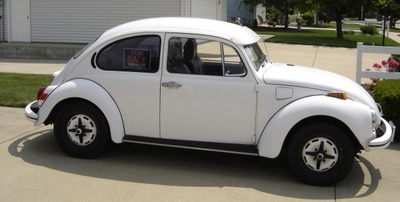 Currently it's not running right (after over 1000 miles of perfect service), and I'm convinced that it's the carburator or fuel system. Several on-line purchases later, I'm ready to replace the fuel pump and clean the carb out to see if that fixes it. That's today's project.
Aside from the current problem which I'm attributing to cruddy stuff getting into the fuel, here's a partial squawk list that I'll be working on fixing over the next few months:
there's a gas smell inside. I've been assured that it was the gas cap; it's been replaced twice, which no change. I have parts for this
no cup holders; I purchased a console insert
the light switch wobbles rather badly
the wiring has been re-done to add connections to wire it as a trailer. My initial guess is that the wiring has been messed with beyond this; I think the whole thing bears going over
non-original bumpers painted white. I bought some non-original Brazillian chrome ones on ebay
non-original wheels that have been painted. I'm not sure what I'm going to do about this, if anything
the radio doesn't work
the brake handle is rusty, although it's about the

only

place on the body that's true
it has a sun shade above the windshield. I'm tall enough that it's annoying to see stop lights
engine to body seal rubber is disintigrating. I've purchased one, but I pretty much need to pull the engine to install it.
front-most engine tin is completely missing; ibid.
both door scraper robber is rotting away, driver's side is mostly gone. I want to get this fixed before I take drive it back to Champaign for work, so that I don't have to worry about rain. I have the replacements, but putting them in requires taking the door mostly apart. It looks to be kind of involved.
There are probably other things, but those are the bulk of them. I'll set up a site to show the changes and progress. Hopefully later today, some of the things on the list will be checked off
---
2006 August 20 08:32
This is my first blog post from the new house. This is pretty bad, given that I've been her a month. I've been busy though.
We're almost to the point that we're comfortable in the new house. I still have lots to unpack in the basement, but that's endemic with me. That will slowly improve as I get more furniture down there.
In the not too distant future, the garage will be able to accept two cars. This will be considerably helped by the completion of the work bench: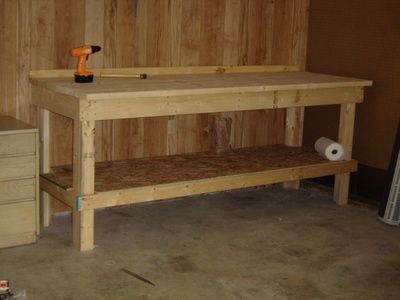 Oh, and I've taken four flying lessons so far. They're going well; I'll report more specifically at some point.
---